Blasting his way to a superb gross 79 which included two par-5 birdies, the longest drive and never more than five strokes on a hole, the lofty audio/visual aids technician destroyed the opposition with an exceptional display of power-driving at Berkshire's Blue Mountain Golf Club.

The early-morning drizzle did nothing to raise the spirits of the advance party of Cardex veterans still groggy from their previous night's revelry. Whereas grey skies, black moods and ashen faces contributed to the low-key start, only Whittington kept his nerve on the first tee, sending an ominous drive booming down the fairway where others found bushes, sand and water.

In the chasing group, Dave Stokes had mixed fortunes in returning a creditable 41 Stableford points - a run of three-putts early on cost him the scores that may have secured his victory. At the other end of the board, Smith and Jones found losing balls an easier proposition than gaining points and continued to impress the handicap committee that their share value may be somewhat inflated. DLT doesn't get a mention.

Whittington also took the Nearest the Pig award popping his ball onto the upper terrace of the Eleventh green. Far closer but just off the fringe by only a couple of inches, reportedly, was Angus Gibbins' attempt. A rare case of six inches being downplayed to two !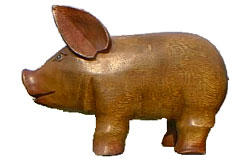 Bomber's monster drive on the Seventeeth secured him an amazing treble, something even Kev Ryan grudgingly admitted he didn't think he'd see again in his lifetime. To prove it was no fluke, on the final tee Bomber launched another Scud going back up the hill that exceeded his previous mark.
What is a BP golf tournament without an incident or two : who can forget Pete Brew's successive and identical slices from the middle of the tenth fairway into the walled garden of an adjoining property ? Or Stokesy's impossibly long tee shot stopped conveniently pin-high by a leading group member's golf trolley. But in the end it was the inclement weather and Bomber's blitzkrieg that dominated the day.

Well done Bomber, but how are you at boules ?

PFL