Latest CGS News
08/08/15 I will get back to updating results from recent tours soon. Just a couple of handicap cuts to report: the 2 Kevs, Havlin and Ryan, have received cuts of 1 and 3 strokes respectively. Mr. Ryan's cut was triggered after scoring 28 points from 9 holes in a recent casual game - could have been worse as he had achieved a score of 27 after just 7 holes!



16/03/14 Seven Snow Whites and a Dwarf at the Aussie Grand Prix, 2014. I've no idea how he blagged this but fair play to him. See Kev H., if you're nice to the girls, they'll be nice back.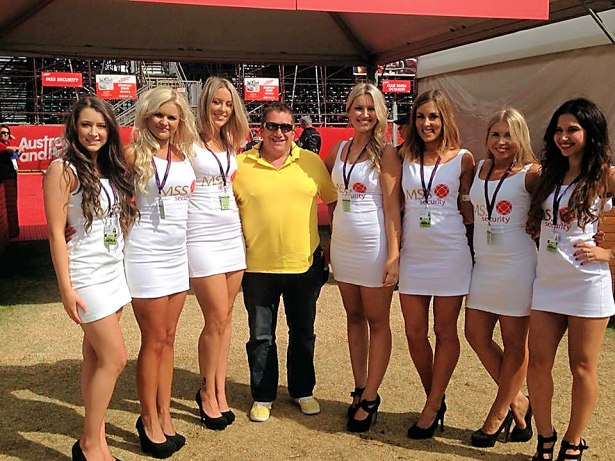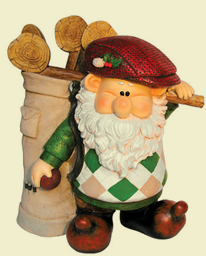 27/12/13 The President has been awarded a 2 shot, age-related, increase in his handicap on the occasion of his official 60th Birthday. We finally reach the proper birthday and we can't even sing to him.
13/12/13 A pre-Christmas competition, The Turkey Trot, was played at Redbourn GC. It was light when everybody started but finished in very dark conditions. The competition was won by Kev Havlin, 9 points clear of joint second placed Lofty and IJO. Because of the extreme result, the up and coming Mr. Havlin was awarded a 2 point cut in his handicap - Merry Christmas from the Committee Kev. There followed a post competition soiree at the Bellgate, food provided by mine host Dean, where the winner was presented with the newly-instituted Presidents Trophy (Pictured Above). Survivors from that part of the evening waddled down to the Rose & Crown to witness a cracking performance by local band, Badwolf. Several headaches were suffered on Saturday after an 02:30 finish.
27/09/13 - 30/09/13 Vilamoura Report and a couple of pics to follow.
26/09/13 Eleven members played a 9-hole competition for the Durex Shield and Bader Trophy at Little Hay this evening. The evening was graced by the presence of non-Portugal attendees, IJO, 'Orrible Ormshaw and Pete Brew (after a sojourn on the M25). The shield was won by Bomber, unfortunately with a score of 21, which occasioned a 1 stroke cut in his handicap just in time for a really long course, Pinhal, Vilamoura. The Bader trophy was retained, much to his wife's delight, by IJO. I'm guessing that it will be back in it's rightful place in the BP office by the time we return.
08/09/13 Nobby and the two Dicks had an 06:52 tee-off at Little Hay on Saturday morning. Very bracing and worth the 18-hole walk. Nobby turned out tops again with a Stableford 40 - another handicap cut of 1 taking him to 37. Bomber was the grossest with a score of 90. Dick as usual had a mare, but thoroughly enjoyed it and found untold opportunities to let fly with many invectives and profanities.
04/09/13 Three members had a 9-hole evening stroll in the sun at Little Hay. Once again Kev H topped the honours roll with a Stableford score of 22 followed by Bomber, 15 and Dick, 14. Another stroke off Kev's handicap, cementing his top 10 ranking.
28/08/13 A brief hiatus in the reportage. You can read the latest update on the Secretary's page but worthy of a Front Page note is a further cut to Mr. Havlin's handicap, taking him into the Top 10 CGS Golfers
01/08/13 Four played a 9-hole at Redbourn. No special scores except DJ scored 1 point after 6 holes and 8 points for the next 3 holes. Pinhal look out. Can't remember who won but it was between Secretary Ian and the other dark horse Kev Ryan. Nobby was third.
25/07/13 We finally found a society even slower than the CGS. Little Hay, 19:08 tee-off, gates close at 21:15. We gave up after 6 holes at 20:35 after following the Little Hay Winter Golf Society for those 6 holes. WTF are they doing playing in July? I'm guessing that the Ski's were a handicap
18/07/13 Nothing special to report this week. Big & Little Dick and Ian played 9 holes at Royal Shendish tonight, Big Dick playing to par, the rest of us not, followed by a Midland Massaman. Apparently Brother Havlin was playing away tonight so he couldn't join us. This boy keeps practising - Watch out in Vilamoura
11/07/13 In a power driving tour-de-force CGS Secretary Ian Wilson scored 22 points after 9 holes at Little Hay, occasioning a 1 stroke cut to his handicap, witnessed by two other CGS members, Big and Little Dick. This just proves that the Committee are equal opportunity cutters and neither Dick would accept the £25 bribe to keep quiet. In achieving the cut, he moves ahead of 3-time Pig winner Angus! Ian also won the 4-ball competition.
05/07/13 An informal 9-hole gathering of 7 CGS Members plus interim associate member DLT + guest took place at Little Hay on Friday, 5th July. The guest was Dave's son Joe, who I'm sure you remember from Bognor. I think we can mark this day as the first day of summer, judging by the weather. The competition was won - again - by Kev Ryan with a Stableford score of 22 for which he gratefully accepted a handicap cut of 1 stroke. Grateful because if he'd carried on scoring at the rate of his first 6 holes he would have received a cut of 5 strokes! The upshot is that Kev beat Dave in the non-CGS accredited SHIT trophy.
A famous weekend for Britain & Ireland (and Scotland)
Gatland's picks were exonerated. Bo'D was not the one to defeat the Wallabies. For those who didn't watch, the result was enough. And the the British player Andy Murray went and won Wimbledon! 77 years of hurt (apparently, because I wasn't hurting) eradicated.
And the sun shone at the White Hart on Sunday afternoon.
Site Update
All of the pages have now been converted to the new format. Some will look familiar but are displayed with the new site header. The what's occurring paragraph still applies re old site/new site switchability. The old version will now be maintained just for Handicaps and the Roll of Honour (in case of any discrepancies between the new and old sites handicap-wise, the new site will take precedence).